BIAZA interviews Elisson Wright, Senior Environmental Finance Specialist, from the World Bank about their innovative new 'Rhino Bonds' and whether this radical finance model that might just be an important solution to the biodiversity crisis…
In March the World Bank priced the Wildlife Conservation Bond, aka 'Rhino Bond' in support of South Africa's black rhinos. This first-of-its-kind outcome-based bond, a five-year $150 million bond, will channel conservation investment payments from the private sector to achieve conservation outcomes at two protected areas in South Africa. Success in boosting rhino populations will be monitored by ZSL. We ask Elisson Wright to explain more:
The Rhino Bonds have been described as 'ground-breaking' just how big a potential does this model have?
The Wildlife Conservation Bond (WCB) tests a new model for conservation financing where investors accept project outcome risk in return for a potential payout, if the project is successful. The structure creates an opportunity for private investment in conservation, supported by sound quantifiable metrics and models. If proven effective, this concept and structure could potentially be replicated and adapted to address challenges at other rhino sites, or for other wildlife species and development challenges, more generally.
For those who might be confused, how does the Bond work?
The WCB is a five year, US dollar denominated, principal-protected World Bank Sustainable Development Bond. The WCB combines a 'use of proceeds' bond that supports the financing of sustainable development projects and programs in World Bank member countries with an outcome-based mechanism that facilitates access to additional financing for conservation that the parks would otherwise not have had access to.
Investors in the WCB do not receive coupon payments. Instead, the World Bank will make conservation investment payments to the two protected conservation sites: Addo Elephant National Park (AENP) and Great Fish River Nature Reserve (GFRNR), to fund rhino conservation activities. Investors stand to receive a success payment at maturity, linked to the growth rate of the black rhino population at the two parks, paid by the World Bank with funds provided by the Global Environment Facility (GEF). The rhino growth rate will be calculated and verified by independent parties, Conservation Alpha and the Zoological Society of London (ZSL) respectively, over the bond term. Irrespective of the rhino growth rate and project implementation risk, investors will receive their principal investment back at maturity from the World Bank, providing investors a AAA-rated investment with the potential for an additional return if conservation outcomes are achieved.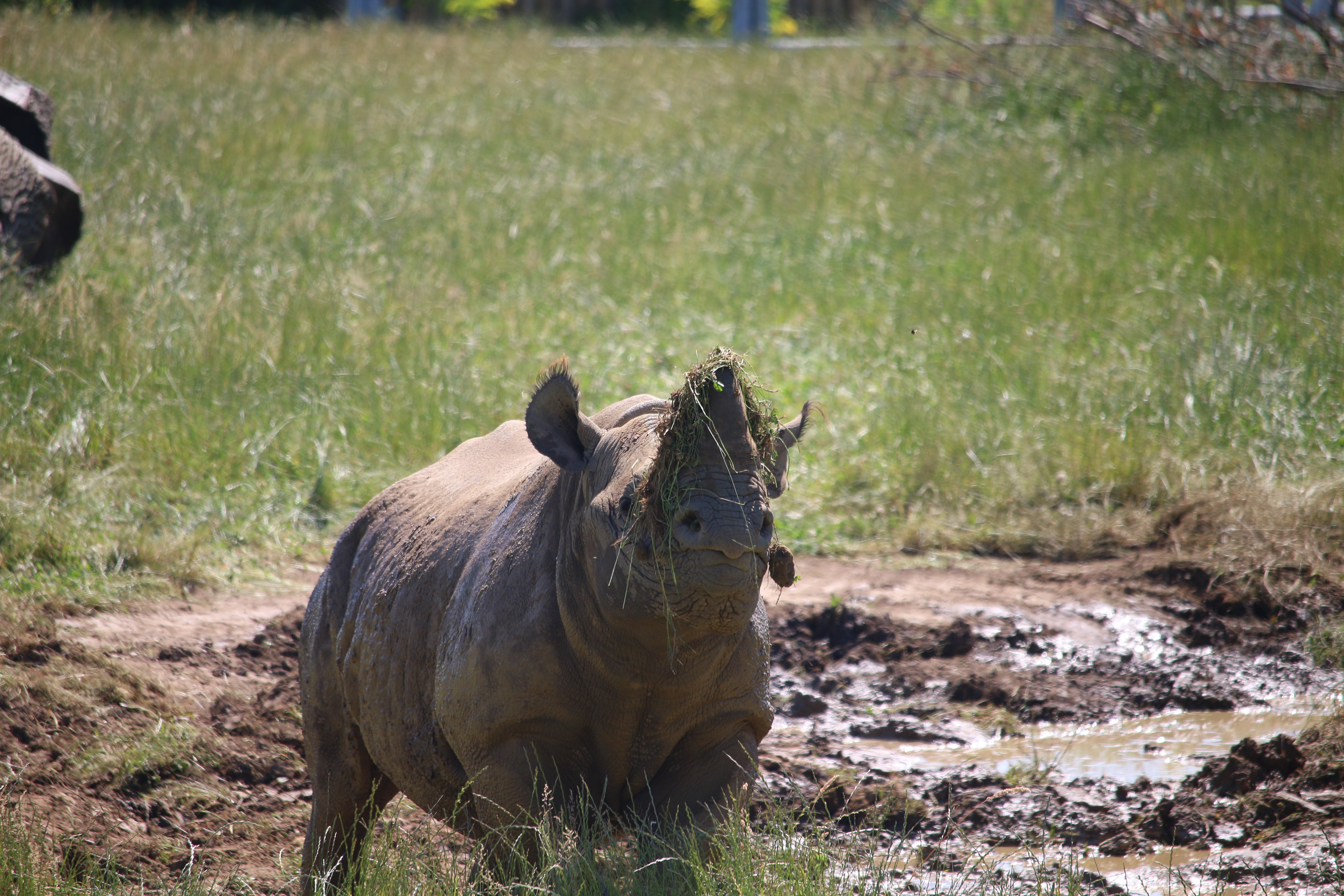 A black rhino enjoying the mud at Yorkshire Wildlife Park
What changes can we expect at Addo Elephant National Park and the Great Fish River Nature Reserve?
By facilitating access to additional funding that the parks would otherwise not have access to, the WCB may allow the parks to scale up their activities to protect and grow rhino populations. This can include measures to increase supply and distribution of water, improve rhino security through enhancements in staffing, equipment, facilities, training, fence upgrades, improved aerial support, communications, and national and regional coordination.
Communities will also benefit from jobs provided through the WCB in a region that is severely impacted by COVID-19, affecting livelihoods. The GFRNR is half owned by the local community, with a revenue sharing scheme for ecotourism designed to catalyze economic development. For AENP, the community will benefit from not only the direct and indirect jobs, but also from ZAR 2.6 million in project investments for specific community interventions and benefits to community members that participate in the "Working for Water," "Working on Fire", "Working on Ecosystems and Environmental Monitors" programs. Permanent employment opportunities will be provided, including security and monitoring staffing, and community members will also be employed on an ad hoc basis. There will also be employment opportunities during the construction phase of new infrastructure as well as maintaining current infrastructure.
How have you managed to bring conservation bodies together with financial experts together?
This operation has allowed for stakeholders from conservation and finance who rarely collaborate directly on deals to work together for the benefit of biodiversity and impact investment.
Internally, this translated to World Bank staff from the Environment, Natural Resources, and Blue Economy Global Practice who lead conservation projects globally to partner with the Treasury that have over 70 years of innovation in the global capital markets.
Externally, the World Bank team collaborated with the Global Environment Facility (GEF), financial institutions (such as Credit Suisse and Citibank), environmental non-government organizations (including Zoological Society of London), the IUCN Survival Specialist Commission African Rhino Specialist Group (AfRSG). The World Bank team leveraged a project that was started back in 2014, which set the foundation for selecting black rhinos and the two sites in South Africa. This prior project, The Rhino Impact Investment Project which was funded by the GEF, the UK Illegal Wildlife Trade Fund and others, provided the scientific basis for World Bank support. Through extensive engagement and outreach, these stakeholders increasingly became more comfortable discussing and understanding the realities of conservation on the ground and legal and financial requirements of capital markets instruments. Over time, there was a convergence in language and tools used to describe both the investment opportunity, development objectives, and on the ground project activities. More work is needed to facilitate future transactions, especially taking financial and legal documentation and business practices and adapting it to the realities of working in remote rural areas with new products related to biodiversity.
What do you think will be the biggest obstacles to the success of the rhino bonds?
The fact the Wildlife Conservation Bond was issued in March is already a great achievement. This is a first of its kind and having private investors seeking financial returns buy the bond is a significant milestone. Investors can potentially receive a conservation success payment that is tied to positive rhino growth. Despite the strong rhino growth at these two sites, future growth rate of rhino population may be adversely affected by a number of factors some of which are outside of IBRD and the Park Managers' control. .
These factors include but are not limited to (i) illegal poaching of rhinos, (ii) high density of the rhino population in an area with limited habitat resources and/or competition with other large mammal species living in the same habitat (which may impact the availability of browse for rhinos), (iii) bush fires or (iv) diseases affecting the rhinos. The two protected areas have strong risk reduction measures in place to mitigate these risks.
What's next for this project?
Rhinos are an "umbrella" species that depend on an intact and healthy ecosystem. Conservation of rhinos has much broader benefits than for the species alone, helping to protect ecosystems and many other species that share the rhinos' habitat. The activities financed by this project will help conserve an area of 153,000 hectares that is home to many other species. The parks serve as a sanctuary for other fauna and flora species, serve as a carbon sink, and protect water catchment areas. For example, the AENP has diverse mammalian fauna, over 400 bird species, and over 13 endemic species of herpetofauna, and provides sanctuary for pollinators that serve the local citrus industry, roughly 25% of South Africa's citrus industry. GFRNR hosts many pollinators, which support the agricultural industry and local subsistence farmers. Protected areas also help mitigate climate change and act as a buffer against extreme weather events. The successful implementation of this project can serve as a catalyst for future investments in the region and for other umbrella species globally.
By Elisson Wright, Senior Environmental Finance Specialist, from the World Bank
And Andy Hall, Communications and Public Affairs
Related Members