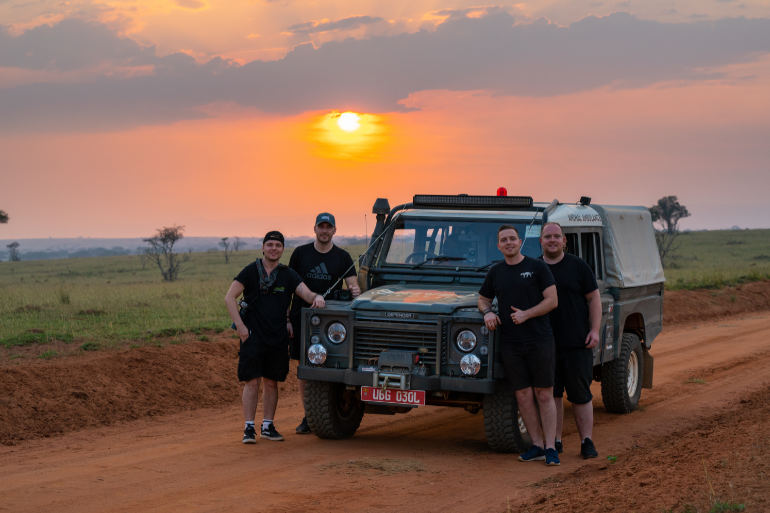 In February 2019, brothers Aaron, Tyler and Cameron Whitnall, accompanied by their life-long friend Redmond Boulton, drove 4,500km in just 4 weeks across Kenya, Tanzania, Rwanda and Uganda. Since then the team have been fundraising with the support of Paradise Wildlife Park and the Big Cat Sanctuary to send an animal ambulance to the Ugandan Wildlife Education and Conservation Centre (UWEC).
UWEC is a vital wildlife conservation charity, it is responsible for the rescue of over 900 animals and a 24-hour animal rescue hotline. This vehicle will significantly impact the rescue of animals that have been captured for the illegal wildlife trade. Over 100 people were present to receive the ambulance, including national press and government.
While in Uganda, the Drive 4 Wildlife team will assist UWEC in the relocation of a baboon family. Currently, the baboons are living amongst a human community and conflict has become an issue, with the baboons stealing crops. UWEC and Drive 4 Wildlife will be moving the baboons deeper into the Murchison Falls National Park so that they are safe from farmer retaliation.
In order to carry out such a task, UWEC need a vehicle capable of transporting wildlife safely. Thankfully, the Drive 4 Wildlife team ensured that the animal ambulance was fully equipped with the latest animal protection and rescue modifications. These include an animal crate; a fridge to store medicines, vaccines and any blood samples taken from the field; a winch to pull out large stuck animals; and full LED light bars for the anti-poaching team's night rides.
Overall, Drive 4 Wildlife raised over £50,000 from their Just Giving pages and through the Paradise Wildlife Park website. All funds went towards the vehicle and to Uganda, with any extra monies going towards supporting the UWEC team in their anti-poaching and animal rescue efforts.
Drive 4 Wildlife, Paradise Wildlife Park, Zoological Society of Hertfordshire and the Big Cat Sanctuary are incredibly honoured to support such an inspiring wildlife charity. They hope that the animal ambulance will aid the rescue of animals in Uganda and support the conservation of African wildlife. To keep up to date follow the Drive 4 Wildlife Facebook page. If you would like to donate to the cause, visit the Just Giving page.
Related Members